You may have noticed a new feature at the top of the column to the right of each page on this website. You can now easily send a voicemail message to me of up to 90 seconds right from your computer or even from your cell phone in some cases. Just click the graphic below or the link at the top right column of any page.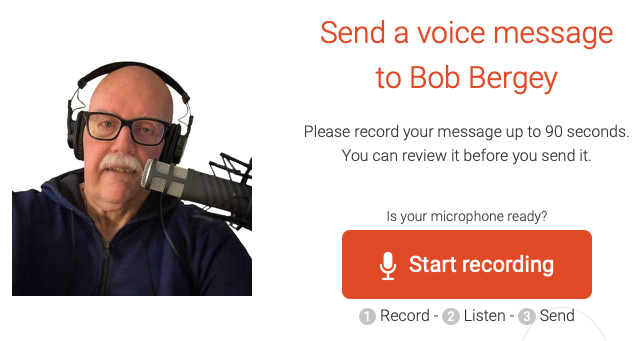 Clicking the link will take you to the SpeakPipe app. When you're ready to record a message, click the "Start recording" button, stay close to the microphone on your PC or Mac, and speak for up to 90 seconds. A timer will count down so you know exactly how much time you have left. When you're finished, you can listen to the recording to make sure it's what you wanted it to say, then you can either hit the Send button or record it again. You'll be asked to enter your name and email address to activate the Send button. Once you click the Send button, it automatically gets sent to my email.
If you have a comment to share after you've read a post here or listened to one of the podcasts, send me a voice message instead of or in addition to leaving a comment below. It couldn't be any easier! I will be able to use the audio file in the podcast, which is so much nicer than me just reading a message from you. I'm not guaranteeing I'll use everything sent, but I'm always looking for user-supplied audio, so there's a good chance it will get used.
Thank you for your participation!