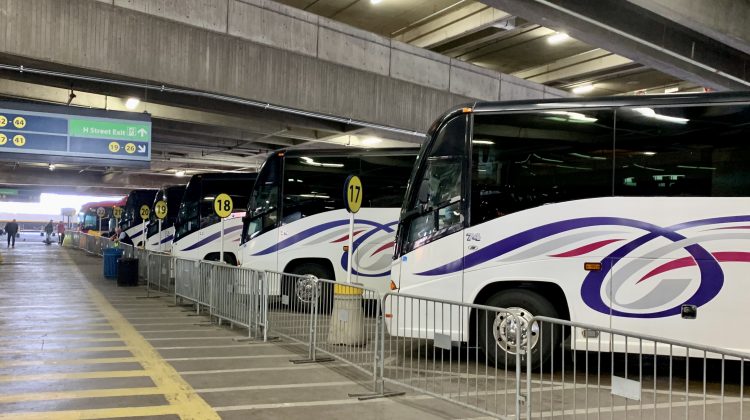 Updated 9/28/22. Here are links to Facebook groups for motorcoach operators, FMCSA official pages for motorcoach operators, plus motorcoach guidelines, parking information, and more for dozens of the most frequently visited cities across the US and Canada. Feel free to suggest more — use the Contact page to send links or suggestions. Cities are listed in alphabetical order.
Bus Companies • Repairs • Wash/Dump
BLUE BEACON Truck (& Bus) Wash — a list of over 100 locations across the US, organized by state, and Canada (Ontario only). Individual locations may also contain links to nearby motorcoach waste dump locations.
Maria Manuela Silva's Google Map of the US and Canada (Maria is Admin for the Motorcoach Operators Nationwide group on Facebook) — Maria has spent countless hours compiling this list of hundreds of bus companies, repair facilities, wash/dump locations and more, all across the US and Canada. It is updated automatically as she adds more resources. For suggestions or corrections to the listings, contact her directly through her Facebook group.
Facebook Groups for Motorcoach Operators
Photography groups on Facebook of interest to motorcoach operators:

YouTube Channels for Motorcoach Operators
Bob Bergey — my YouTube channel featuring technology, tutorials, and much more to come especially for motorcoach operators.
Motorcoach World — James Wang's popular channel for "bus nuts."
FMCSA — US Federal Motor Carrier Safety Administration
CVSA — Commercial Vehicle Safety Alliance
Canadian Information for Motorcoach Operators
Motorcoach Associations
---
Destination Cities
---
Atlanta, GA
Bus Parking at Georgia World Congress Center (reservations required)
Atlantic City, NJ
Atlantic City Bus Parking (Check with other drivers for additional parking options)
Approved Atlantic City Bus Routes
Baltimore, MD
Beverly Hills, CA
Boston, MA
Guidelines for Tour Buses In Boston
Charleston, SC
Bus Tour and Parking Permits — also interactive maps
Chicago, IL
Chicago Motorcoach Parking Map and Information Guide
Dallas, TX
Downtown Dallas Motorcoach Tour Parking — link downloads PDF map
Los Angeles, CA
Your Guide to Parking a Charter Bus in Los Angeles
Minneapolis, MN
Bus/Motorcoach Parking (PDF file)
Montreal, QC Canada
Tour Bus Parking Maps — Scroll to bottom of page, selection of PDF maps for bus parking
New Orleans, LA
Motorcoach Parking in New Orleans, LA
New York City
Motorcoach/Charter and Tour Bus Guidelines for New York City
2022 Holiday Motorcoach Operators Guide for New York City (PDF file)
Newport, RI
Motorcoach Information and Parking Pre-Registration
Niagara Falls, ON Canada
Niagara Falls Parking — in addition to this, many hotels offer motorcoach parking if groups are staying there, including shuttling drivers to off-property parking
Niagara-on-the-Lake, ON Canada
Bus Parking (scroll to bottom of page)
Philadelphia, PA
Motorcoach Guide and Bus Parking Regulations
Portland, ME
Portland, OR
Quebec City, QC Canada
Bus Driver Guide (includes a great map, but only in French)
Quebec City Bus Driver's Guide and Map
San Francisco, CA
Savannah, GA
Motor Coach — Parking/Idling Zones (map)
Motorcoach Permit Information and Application
Seattle, WA
Toronto, ON Canada
Vancouver, BC Canada
Virginia Beach, VA
Washington, DC
Tour Bus Parking and Other Info for Washington, DC
Motorcoach Guide and Parking Regulations for Washington, DC
Motorcoach Operations — Regulations, Requirements, & Tips
Williamsburg, VA
Motor Coach Bus Driver Instructions
Colonial Williamsburg for Motorcoaches — includes bus map of the historic area, and info for the Bus Service Center, formerly called the Penske Service Center, now re-signed as the Williamsburg Transportation Center (fuel, parking, bus wash, drivers' lounge for motorcoaches)