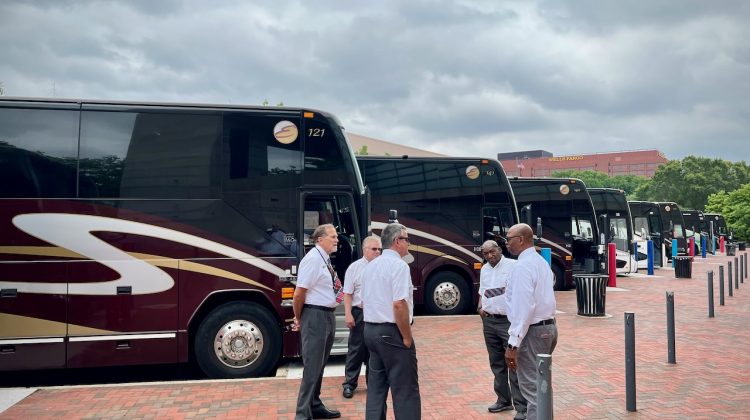 EightWheels Across America on Facebook is an extension of the EightWheels Across America website, podcast, and YouTube videos. Its purpose is to provide a safe place for motorcoach drivers in the United States and Canada to discuss issues, share information, and develop camaraderie.
While it's primarily intended for current motorcoach drivers (or operators), past and future drivers are also welcome to join and participate. Company owners and managers are not prohibited from joining but must understand it's about the drivers and all posts should relate to life as a driver. Posts recruiting drivers or directed at other owners are not allowed without permission in advance from the admin team.
The group is monitored by an experienced admin team who will help ensure that the group is safe for everyone, and that messages add value to members. Messages must relate directly to the motorcoach industry and issues of interest and benefit to motorcoach drivers. Participation by every member is strongly encouraged. Messages on politics and religion are prohibited, just as they likely are on your coach between you and your passengers. A set of eight rules govern the discussions; these may be amended as time goes on and the group grows. They include:
Be kind and courteous. We're all in this together to create a welcoming environment. Let's treat everyone with respect. Healthy debates are natural, but kindness is required.
Participate in the group. Everyone can and should participate in the group. Click the LIKE button on posts or comments; add a comment of your own; add posts and photos and share advice or ask questions. The group doesn't serve its members without everyone's participation.
No political posts or comments. This is not the place for politics or religion. Political posts and comments will be removed by the moderators.
No promotions or spam. Give more than you take in this group. Self-promotion, spam and irrelevant links aren't allowed. No affiliate links without permission in advance of the admin.
It's about the drivers. Company owners are not prohibited from participating but must understand it's about the drivers and all posts should relate to life as a driver. Posts recruiting drivers or directed at other owners are not allowed without permission from the admin team in advance.
No hate speech or bullying. Bullying of any kind isn't allowed, and degrading comments about things like race, religion, culture, sexual orientation, gender or identity will not be tolerated. Derogatory comments about individuals or companies may be removed at the discretion of the moderators.
Respect everyone's privacy. Being part of this group requires mutual trust. Authentic, expressive discussions make groups great, but may also be sensitive and private.
What's shared in the group stays in the group. Conversations and screenshots from the group should never be shared with other groups. Nor should other groups' issues be brought to this group.
Messages posted to the group are not currently moderated — they will appear on Facebook as soon as they are posted. That is likely to change in the future as the group grows to maintain the value and integrity of the group and as the admin team is expanded. Members will be notified if/when that change is made.
Note, too, that this is an all-volunteer effort. Value to members will come directly from other members' participation. The more members, the more value, so share this with your driver friends and encourage them to join.
Join EightWheels Across America on Facebook today, and help make this the best resource online for yourself and your fellow drivers!
NOTE: The Facebook group is not intended for passengers or group leaders — it is for drivers only. Thank you for understanding.