Products I use and love—and you might, too!
The products listed here are all products I either use personally or have personal experience with and can recommend highly. Links to each of these products are affiliate links to purchase the products on Amazon. By clicking one of these links, you help support EightWheels Across America by a small commission I earn on your purchase, without any added cost to you. The podcast and this website are free to you, and this is an easy way for you to help me cover some of my costs in keeping the podcast going. Thanks for your help!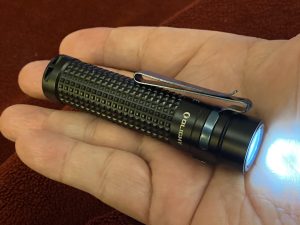 The Best Flashlight Ever?!
This may be the last flashlight you'll ever need. And it fits in your pocket — less than 4 inches long, just 3.5 ounces in weight. Five different levels of illumination topping out at a super bright 1150 lumens plus emergency strobe light. Rechargeable with a convenient wireless charger. Waterproof. Shockproof. And more! You've gotta check this out. I love this flashlight!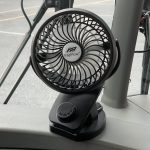 Battery Operated/Rechargeable Clip-on Fan
I love this fan! It's small enough to fit in my lunch bag in the summer, and clips easily to multiple locations in the bus—hanging on a visor, clipped on the steering wheel (when I'm not driving, obviously!), sitting on the dash (it has a flat base), and other locations in the bus too numerous to mention. I like it so much I bought a second one for my office at home! Speed is continuously variable, and fully charged can run up to 20 hours, depending on the speed you have set. Great way to keep air moving on a hot summer day. (Note: It's marketed under several brand names, all appear to be the same, yours might not be the same name as the one in the photo.)
Reusable Zip Ties (Beaded Cable Tie Wrap)
Here's a product with a multitude of uses—and no need to feel guilty about always throwing out used zip ties. Keep a few in your motorcoach and in your workshop at home. Twelve inches long, 70 lb. tensile strength, pack of 40. Thanks to Daniel Krenke on the Facebook "Professional Motorcoach Operators" group for the suggestion.
Sticky Cell Pad
I use this sticky Cell Pad for several purposes. It's great to lay on your dash or console to keep your cell phone from sliding around while you're driving. And when I'm parked, I put it in the center of my steering wheel to keep my iPad or laptop from sliding off. It's easily cleaned (and the sticky renewed) with water or a "wet one" moist towelette from your coach's restroom to be good as new. I've not had any problems with this one in the heat, either (some brands melt in the heat of summer).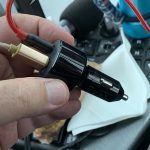 USB Car/Bus Charger, Anker 42W PowerDrive Speed+
One charger (plugs into a lighter socket) with two outlets—one USB 3 charger, one USB C charger, covers all your devices. I use this in the bus to charge my iPhone, iPad, MacBook Pro, and more. Extremely convenient and well made.
Anker PowerPort Cube
I carry this power strip in my suitcase for use in my hotel room. With a 5-foot cable, it includes three 110-volt outlets and three USB ports (and a switch for the USB ports), and includes overload protection. I love Anker products. Now you only need one working outlet in your hotel room to conveniently recharge all your devices!
Travelpro Platinum Magna 2 Expandable Spinner Suiter Suitcase
Travelpro suitcases are used by airline crews (and smart motorcoach operators) around the world. I love how easy these are to push, and how roomy they are inside (but beware sloping parking lots—they'll roll away from you the second you're not looking!). Not quite a hard case and not a soft duffle, they're just right for your frequent multi-day tours. I have two of them—a carry-on size and a larger 25-inch version, which is the one I use most of the time.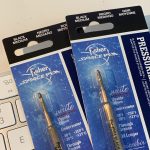 Fisher Space Pens and Refills
Are you willing to pay a little more for a pen that gives you a really smooth writing experience? I've collected pens for more than 40 years, and Fisher Space Pens are my favorite among ball-point pens. Smooth writing on virtually any kind of paper, even upside down, they're just a pleasure to use. The Cap-O-Matic Space Pen just clicks to open; the refills fit any pen that uses Parker refills. I keep several of these handy at all times. Paperwork is almost fun!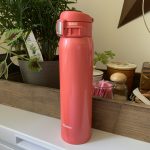 Zojirushi Stainless Mug—20-Ounce Coffee or Water Bottle
This is without a doubt the best water bottle/coffee mug I've ever had on the bus! I have two of them that I carry with me every day—one for ice water, one for coffee (get a different color for each!). A few ice cubes and water stays ice cold all day. Hot coffee stays hot all day. I bet you've never had a bottle this efficient, hot or cold! And they're tough—both of mine have survived rolls down the steps with only one or two small dings to show for it. I've had them almost two years and they're still working like new despite the dings and scratches. Bonus: it fits the cupholder in the driver's cockpit on MCI J4500 coaches! Note—it's available in many colors, and some colors are less expensive than others.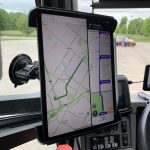 Ram Mounts for Mounting Your Electronic Devices
Here's how I mount my iPad on the side window of my MCI J4500 motorcoach. Ram Mounts make the best mounts out there in my experience. This one is over two years old and has never fallen off the window, and I move it from coach to coach every day. They make custom holders for nearly every kind of device you can imagine; this one holds almost any iPad, with or without a case on it.
VibraWipe Microfiber Cleaning Cloths
These microfiber cleaning cloths are the best and most useful I've ever found. Sold in a package of 8 in four different colors, they're great for all kinds of cleaning jobs, from the glasses on your face to your iPhone or any surface in your motorcoach. Throw them in the laundry when they get dirty and they're soon good as new. Very heavy duty, absorbent, lint-free, streak-free. I always have one of these in my backpack!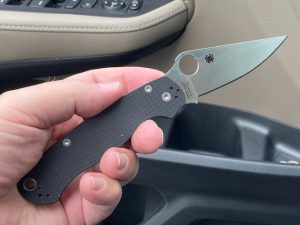 Spiderco Para Military 2 Pocket Knife
Could this be the best pocket knife ever? It's the best I've ever had! I don't have a big collection, but this is my newest and now also my all-time favorite pocket knife. As with so many things, you get what you pay for, and this costs more than many are accustomed to paying for a pocket knife. But in my opinion, it's worth it. It comes in a left-handed version as well as the popular right-handed version, a rarity in pocket knives. I'm left-handed, so this is perfect for me. One of the highest-rated products on Amazon.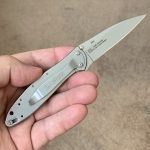 Kershaw Leek Pocket Knife with SpeedSafe Opening
Every driver needs a good pocket knife—handy for so many things. I have two of these—a matte black one for work, and a stainless steel version for my jeans pocket. One quick flick and it's open, and you can close it with one hand, too. This is a great example of "You get what you pay for." Very high-quality product.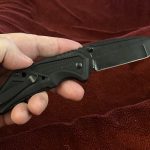 Smith & Wesson M&P SWMP11B 8.9-inch Folding Knife
This is a larger knife but very handy to have in your pocket or backpack, or great to keep in the console of your vehicle — it has a built-in strap/seatbelt cutter and a ceramic glass break.
Tide To Go Pens
A package of three…one in my lunch bag, one in my backpack, one in my suitcase…probably should order more of these now! These are a real lifesaver when you just can't help wearing your lunch on the job.
Arctic Zone Titan Zipperless Hardbody Cooler
Throw in an ice pack (or save a bit and freeze a couple of bottles of water) and this Titan cooler will keep your lunch cool most of the day. I've been using one for a couple of years—it's starting to show some signs of wear but has no tears, no broken zippers, the hard body is still intact and keeps my lunch from getting crushed in the overhead compartments of the coach.
Garmin RV 890 GPS
For the last several years before the pandemic I'd been using a Garmin RV-760 GPS (currently discontinued). Now that things are beginning to roll again, it was time to update my GPS, and after some research I decided on this Garmin RV 890 GPS. I've only used it a few weeks at the time of this writing, but so far I love it! An 8-inch glass screen that makes it operate as smooth as silk, magnetically mounted to the suction cup windshield mount that makes it so easy to program, in addition to programming it through the Garmin Drive app on my smartphone. Program in the size of your coach and it will help keep you on roads meant for you. I highly recommend it!
Garmin dēzl 780 LMT-S GPS Truck Navigator
This top-of-the-line model for trucks and buses is also popular among motorcoach drivers. Although no GPS can be trusted completely to warn you of low overpasses or underweight bridges, this one is one of the best. Still have to watch those signs, though!
Apple iPad
The Apple iPad may be the most important piece of gear I own, after my Apple iPhone. I use it for so many things every day; Inrix and Waze apps as I drive, Google Maps to preview directions and parking lots, Garmin's Smart Link app to program my GPS, email and texting apps, keeping up on news, and, of course, viewing the EightWheels Across America website and listening to podcasts! You need an iPad, too. There are multiple models depending on your budget, and if you're not doing digital photography or artwork or high-end music, you probably don't need the fastest, most expensive model. BUT—this is important—be sure to get a model with cellular service capability, even if you don't plan to add a cellular plan! It will add about $130 to the cost of any model, but you need it. It's the only way to get a model that includes a GPS chip, which is important to accuracy when looking at your maps or using turn-by-turn directions. Some of the links below may be for WiFi models (I can't totally control the links that Amazon comes up with), but any of them also offer the cellular capability button when you're selecting your model. Feel free to email me with any questions before you purchase if you like. You don't want to waste money by getting too much or too little.
iPad Mini
iPad 9.7-inch
iPad 10.5-inch
iPad Pro 11-inch
This is the model I use, but it's probably more than most people need: